.23 ACRE BUILDABLE LAND in Beautiful Florida Beach Town! Seller Will Finance! in Utica, New York For Sale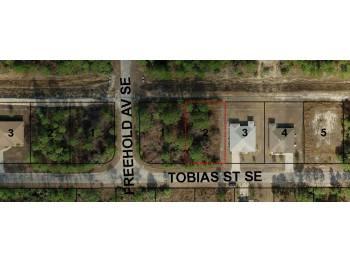 Price: $5,900
Seller:
Type: Wanted rentals, For Sale - Private.

EXT# xxxx | Honore Investments & Property Management | (866) 681-xxxx
407 Tobias St SE, Palm Bay, FL
.23 ACRE BUILDABLE LOT...liquidating at only $xxxx!!!! WE ONLY HAVE 3 LOTS LEFT AT THIS PRICE!
10,018 sqft Vacant Land
offered at $5,900
Lot Size
10,018 sqft
DESCRIPTION
These are four 10,018 sq ft / 0.23 acre lots located in the Melbourne Beach suburb called Palm Bay on the east coast of Florida. They are all located on paved roads in established neighborhoods...with city water, electricity, and sewer available.
They are all located in the Brevard County School District. The nearest schools are Westside Elementary School, Southwest Middle School and Bayside High School.
Taxes are under $100 annually. Taxes are paid and up to date. The only building restriction is that all four of these lots are zoned for Residential Single Family Homes between xxxx sqft and xxxx sqft. No townhomes. No commercial properties. No mobile homes.
They are located in a nice subdivision 5 minutes from Interstate Highway 95, 10 minutes away from the prestigious Bayside High School, 15 minutes drive to Indian River Intercoastal Waterway, 25 minutes to Melbourne Beach, 45 minutes to Downtown Disneyworld, 1 hour to Daytona 500 Speedway, 1.5 hours to Daytona Beach.
Because of their centralized location, these properties sold between $30,000-$55,000 in xxxx. Current values range from $10,000 to $17,000.
However, because they were purchased at a tax deed auction, we are able to liquidate these lots for $xxxx each.
There are only 3 lots left at this price as of 06/29/xxxx.
SERIOUS INVESTORS ONLY SHOULD CALL FREE 24hr recorded message @ 1-866-681-xxxx Ext# xxxx
NOTE: Please add an additional $485 to your offer for closing costs. Title to be transferred by Quitclaim Deed with a professional lien search done by the closing attorney.
see additional photos below
LOCATION FEATURES
- - Taxes were $90.41 in xxxx
- - CALL FREE 24hr recorded message @ 1-866-681-xxxx Ext# xxxx
- - See VIRTUAL TOUR AND CITY VIDEO for more information about Palm Bay, FL
ADDITIONAL PHOTOS
Photo 1
Photo 2
Photo 3
Photo 4
Contact info:
EXT# xxxx
Honore Investments & Property Management
(866) 681-xxxx
For sale by individual owner
Posted: Jun 29, xxxx, 11:23am PDT

20038 sq.ft 1399 Creek Street
City: Penfield State: NY Zip: 14625 Price: $129999 Property Type: Single Family Home Bed: 4 Bath: 2.1 Size: 20038...
Price: $129,999


Price: $65


421 Taylor Avenue
City: Rochester State: MI Zip: 48307 Price: $240000 Property Type: Single Family Home Bed: 2 Bath: 1 Agent: Melissa...
Price: $240,000


Price: $144,900


Price: $1,650,000